Marketing Your Construction Business with Recycling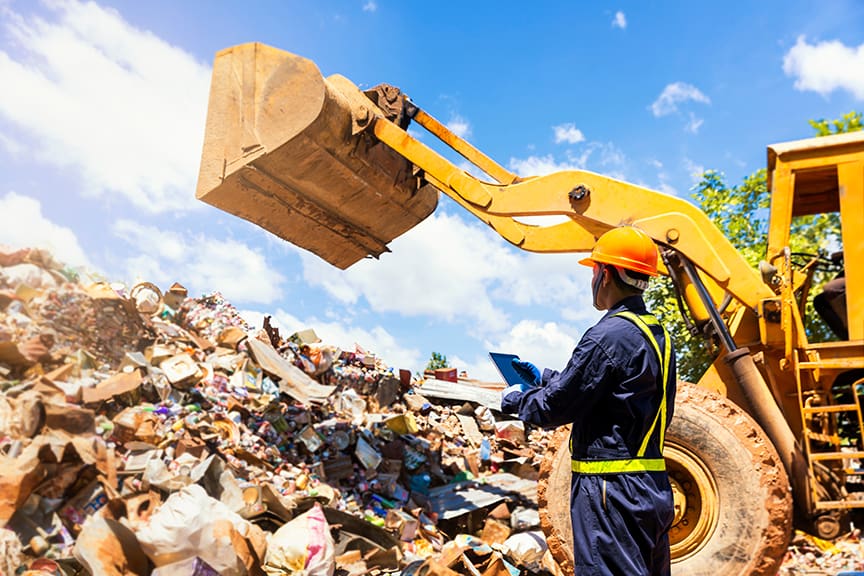 The world is recycling. Companies from Coca-Cola to Tesla to Walmart have robust recycling programs and they make sure the world knows about it.
"As of 2020, 45 percent of consumers surveyed stated that they were interested in finding brands that were sustainable or environmentally responsible. Likewise, 44 percent of consumers stated that they were interested in brands that supported recycling." – Statista
In fact, the three big soda companies, Coca-Cola, Pepsico, and Keurig-Dr. Pepper, have gotten together for a massive campaign to get "every bottle back." Some of that is a genuine concern for the environment, some is to stay ahead of harsh legislation, but most of it is marketing.
Consumers want to know that everything they do is better for the environment. Where once this was a fringe element of the society, the environmentalist living "on the coasts", it's everyone now. From stay-at-home moms to corporate CEOs, everyone sees the value of recycling, even if it's simply because it's better PR for their company.
Always a Consumer
There's a consumer at the end of every project. While you might demolish a factory and build a new one to make widgets, there are consumers who buy those widgets. Your client, the manufacturer, will look to every potential advantage to stand out from their competition.
By offering all your customers, both private and corporate, the advantage of recycling everything that comes from their construction project. Consumers can feel good about dumpsters of waste leaving the house. Companies can use it for their marketing. And so can you.
Standing out from the construction marketing crowd
For demolition disposal, Columbus (OH) has an option for 100% recycling of construction waste: Builders Trash Service.
Our business has always been built around great service and careful attention to customers' needs.
We discovered that the need to start a recycling program has grown exponentially in the past few years.
"As much as 40 percent of (consumer) waste comes from construction projects, which produce a surplus of unused building materials, according to Earth911." – SustainableBrands.com
With 40 percent of everything going into landfills, there's a huge push, not just from consumers, but from regulators and legislators to reduce that amount significantly in the coming years.
Even if you're not in the Columbus area, it's worth exploring how you can recycle your construction waste by choosing the right dumpster service.
How to market your recycling program
So you've used a construction waste recycling service, like Builders Trash Service. Great.
Now, how can you get the word out about what you're doing?
Below is a marketing list to get the word out about the change you're making. The goal is to attract consumers and corporations to your new service. Some steps are free, and others will cost you money. Do as many of these steps as you can to get the word out.
You might enlist the help of some of your office staff, family, or friends who will assist with things like writing materials and posting to social media. If you don't know what to do at all, look for a freelance writer or social media expert to help you push the message out into your community.
Write a press release – while the news in your area is unlikely to print it as a story, you might get some online interest. The goal is to spread the message and find a journalist that's passionate about the environment or construction. If you can get into even one publication, it can push the word out.
Reach out to bloggers – for some of us, bloggers are a strange breed, but in this case, think of them as citizen journalists. Look for local bloggers who are writing about anything from home improvement to the environment to business. Send them the press release. Bloggers often love good stories about the area and the earth.
Post the press release on your blog and PRLOG.org – almost every website has a blog function. Post the press release there. Also go to PRLOG.org. You can post your press release free there and get some free distribution.
Post to social media about it regularly – don't put up one post and stop there. You need to post regularly. Twice per week should be the minimum goal. This is a place to enlist some help, if you need it. Many times, a post can be as simple as a photo of the job site or something interesting. Caption it and post it. It's about 1 minute of your time every three days.
Direct mailers – construction is still a substantial business for direct mailers since your area is finite. Even if it's an enormous area, like LA or New York or Dallas, you know the communities where the work is happening. Mail flyers into that area touting your new "green" waste alternatives.
Lawn signs work – Lawn signs still work for the projects you're working on, especially on residential locations. Put up signs that say, "All waste 100% recycled." This will start a conversation about construction material recycling.
Email your past clients – Contact all your past clients and even contacts that didn't accept your bids. Let them know about the recycling movement in your business. Tell them you care about the community, as well as their buildings and locations. The goodwill can go a long way to getting referrals.
On the trucks – All your trucks and cars should have the company name, contact information, and "Waste 100% recycled" on the sides. Make a big deal out of being the contractor in your area that recycles their construction waste.
Recycling is good for the planet, good for saving raw materials, and good for the community. You can also allow it to be good for your business.
Being conscious of social movements, like recycling and waste reduction, can be a massive help to making your business grow by finding for whom that's the tipping point. Knowing they aren't contributing a lot of waste to the landfill might be just because they need to start a remodeling or building project.
If you have questions, whether you're in Columbus, OH, or not, you can call the team at Builders Trash Service for information and advice – 614-444-7060.